CanRemember
---
© Falkra, libellules.ch, all rights reserved // tous droits réservés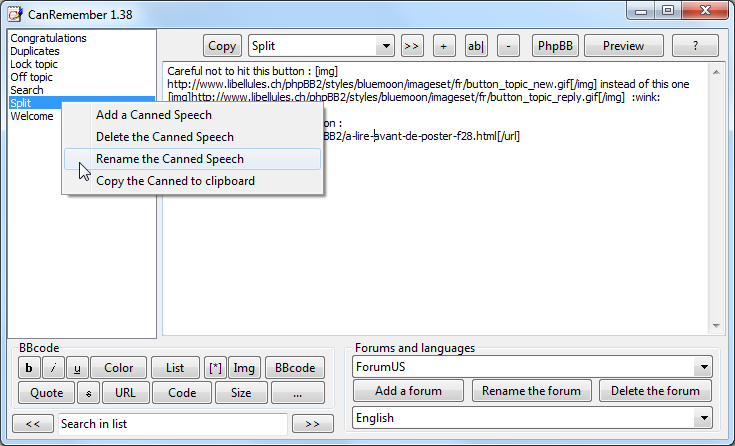 French version of this page, click here.



CanRemember's RSS feed allows you to get the latest news and versions about the program.


Download: CanRemember.zip (200 Kb, portable app)
Current version: 1.38, see version history (changelog)
OS: Windows 2000, XP, Vista, Seven.

Freeware.
Support:
CanRemember
section
(forum)
.
CanRemember is a canned speech manager, which allows you to quickly access stored procedures. This program is designed to add, store, edit and delete text snippets, ready to copy and paste on forums, with BBcode already prepared. CanRemember was originally created by bibi26. After having stopped the project, he gave me the source code and development goes on.
You can save time using CanRemember, when you have to regularly post similar things, using a premade canvas, in order to modify and adapt your answer: this way, most of the answer is already written and set up.
Examples of uses:
- Welcome messages, or moderation actions on forums.
- Common tips, regularly posted.
- Disinfection procedures for helpers on forums.
- Polite phrase, letter endings for your emails
- More...
Once typed and saved, CanRemember organises your canneds in alphabetical order ; you then just need to double-click from the left column to copy the active canned to Clipboard.
Main features:
- Automatic saving and alphabetical listing : every time you creat or edit a canned, it is automatically saved, even when closing the program. There is no Save button.
- Multiple canneds list handling, ordered by website or forum.
- Standard BBcode can be inserted using integrated buttons.
- You can edit, rename and delete canneds.
- Subcanneds: a canned can have subcanneds (children), in case you need to group variants:
This way, a canned named "search" can have subcanneds called "Google", "FAQ" et "Help - support".
- The program is portable, settings are saved to ini file, no calls to registry.
- Multilingual interface : French, English, Spanish, Italian, Portuguese, Norwegian.
- Check and convert to phpBB syntax (phpBB is more restrictive).
- Preview in browser (BBcode to HTML conversion).
- Built-in global zoom feature (change scale=100 parameter in configuration.ini file to adjust zoom).
- Low memory use.
- Freeware.
Interface preview: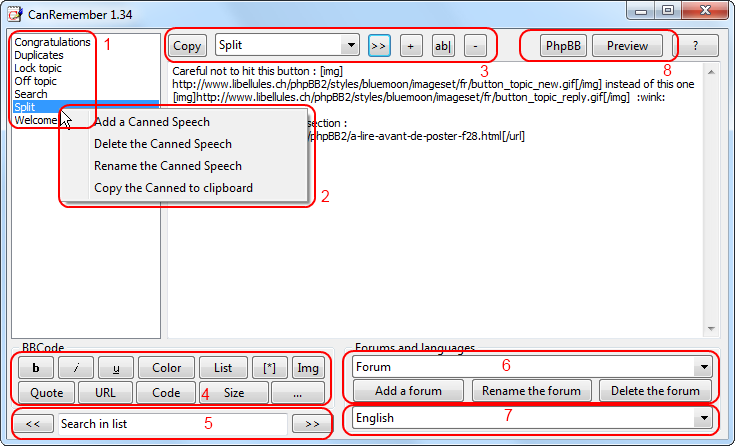 1) Available canned list. A double click copies selected canned to clipboard.
2) Contextual menu, to add, delete or rename canneds.
3) Subcanned menu, grayed if no subcanneds are found (see below).

4) Buttons to quickly add standard BBcode.
5) Quick search through canned list (looks for names, not canned contents)
6) Add, rename and delete forum/website, each one can have its own canneds.
7) Language selection.
8) phpBB compatibility check, and HTML preview in browser.

First run
- Download and unzip file to any folder. CanRemember will create an ini file to store settings, and a "Canned" folder for your canneds and subcanneds.
- Double click CanRemember.exe.
- On first run, you need to create your first forum/website. Click the "Add forum" (area 6) and name it.

- Select created forum (area 6) to enter it. Canned list (area 1) is empty, now you can create your first canned.
- Right click area 1, then click "Add canned speech".
- Name it and click OK, the canned will appear in the list. Click it, then type your text in the right pane. Saving is automatic.
To create subcanneds, you need at least one canned.
- Select it from canned list.
- Click the "+" button: the original canned is copied to the first subcanned, which has the same name, this first subcanned replaces the original canned (you can get it back if you delete all of the subcanned):



You can make several subcanneds, and rename the first one you created.
- The "+" button is used to create a subcanned (only the first one is named automatically, then you can choose names).
- The "ab|" button renames a subcanned.
- The "-" button deletes the selected subcanned.
- The forward button >> cycles throught subcanned list, without opening the whole list (after the last one, you go to the beginning).